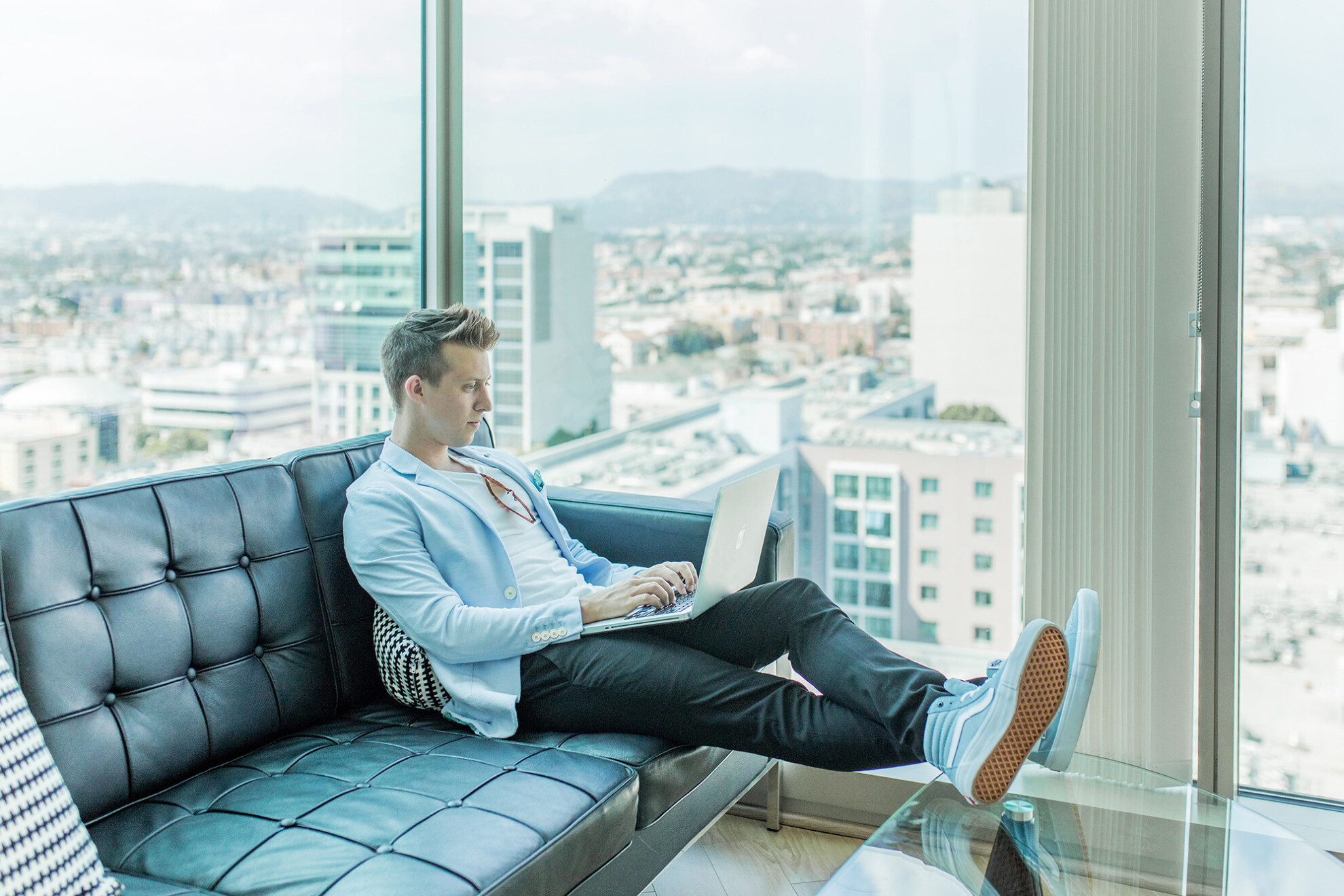 Five tips for a great virtual interview
With lockdowns continuing across the UK, and the current government advice of working from home if you are able to do so, means that if you have an interview coming up, it is likely to be a virtual one.
Whether you embrace the selfie, or would rather shy away from the camera, there are a number of benefits of virtual interviews. With quandaries about what shoes to wear, where to park or which train to catch no longer a thing, it removes some worries and leaves extra time for interview prep.
1 Lights, camera, smart top!
Candidates who relish face-to-face interviews can be thrown by Zoom-style interviews and left thinking "Where do I look?", "What should I do with my hands?", "What's the best framing?", "What should I wear?" However, chances are if you have worked from home at some point you will have been introduced to Zoom and other digital meeting platforms.
Zoom is increasingly being used by employers to conduct interviews, but unless you're Renée Zellweger or Al Pacino you might not feel confident talking into a camera. But with some clever lighting and practice there really is nothing to worry about.
2 Tech Check
This might sound obvious, but it's worth highlighting! If you've got an interview via a video conferencing platform pending, getting to grips with the tech ahead of time could save you stress and technical issues on the day. It is easy to get caught up in the visual elements of online interviews so don't forget about audio. Your video quality might be top notch, but you also need the panel to be able to hear your answers clearly. If you can, do a practice run ahead of the interview.
3 Background and clothing
The golden rule is that nothing should detract from what you're saying. A pleasant, neutral background is best - no objects that will possibly intrigue the interviewer more than your message. Do yourself justice by working to get the best lighting on your face. The same goes for your style of dress. Keep it appropriate and don't assume your lower half will never be revealed – it could lead to an embarrassing moment if you have to stand to make last minute technical adjustments in your PJ bottoms! And, on the topic of clothing, opt for the most pleasing colour. If you are going to sit against a plain light wall, pick a bright coloured top in hues of blue, red and green and if you are going to have a dark coloured wall as a backdrop them opt for soft pastels like pink, yellow and mauve. If you have a choice of backgrounds, maybe avoid the beach option!
4 You've been framed
You don't have to be James Cameron to get three technical aspects right - sound level, picture framing and background. We've already mentioned having a neutral background so moving onto framing, the top of your head and at least the top of your shoulders should be in shot. One idea is to look at how guest interviewees are framed for television news.
It is harder to read body language through a video, so be aware of your non-verbal cues. Remember to smile and nod when the interviewer speaks. Sit up straight and act as you would during an in-person interview. You obviously will not be able to shake hands on arrival, so you will need to show your professionalism and good manners in other ways.
5 Prep your paperwork
Have your CV and any relevant documents, such as a portfolio or interview task, up on your computer ready so you can screenshare example work if needed, or offer to re-attach any documents for reference at the end of the call. If you're able to print them out, it may also be useful to have physical copies in front of you so you can quickly refer to them. Don't get too bogged down with paperwork though, and remember you can stick 'post-it' notes on the wall behind your computer to save looking down at your screen or on your desk.
Finally, doing interviews online is still new and a bit odd for a lot of hiring managers too. Chances are, they've also been worrying about technical issues and, with working from home, whether someone will enter into the room mid-call! It is only natural to compare your interview to what you may have expected from a face-to-face interview but, in reality, you're being compared to other people's virtual interviews, which probably all had a few frozen screens or dogs barking in the background. It looks like even after lockdowns and the pandemic, virtual interviews will be here to stay. So, nail the basics and it will help you throughout your career.
To find out more about Meraki Talent call us on +44 (0) 131 297 2700
or email hello@merakitalent.com