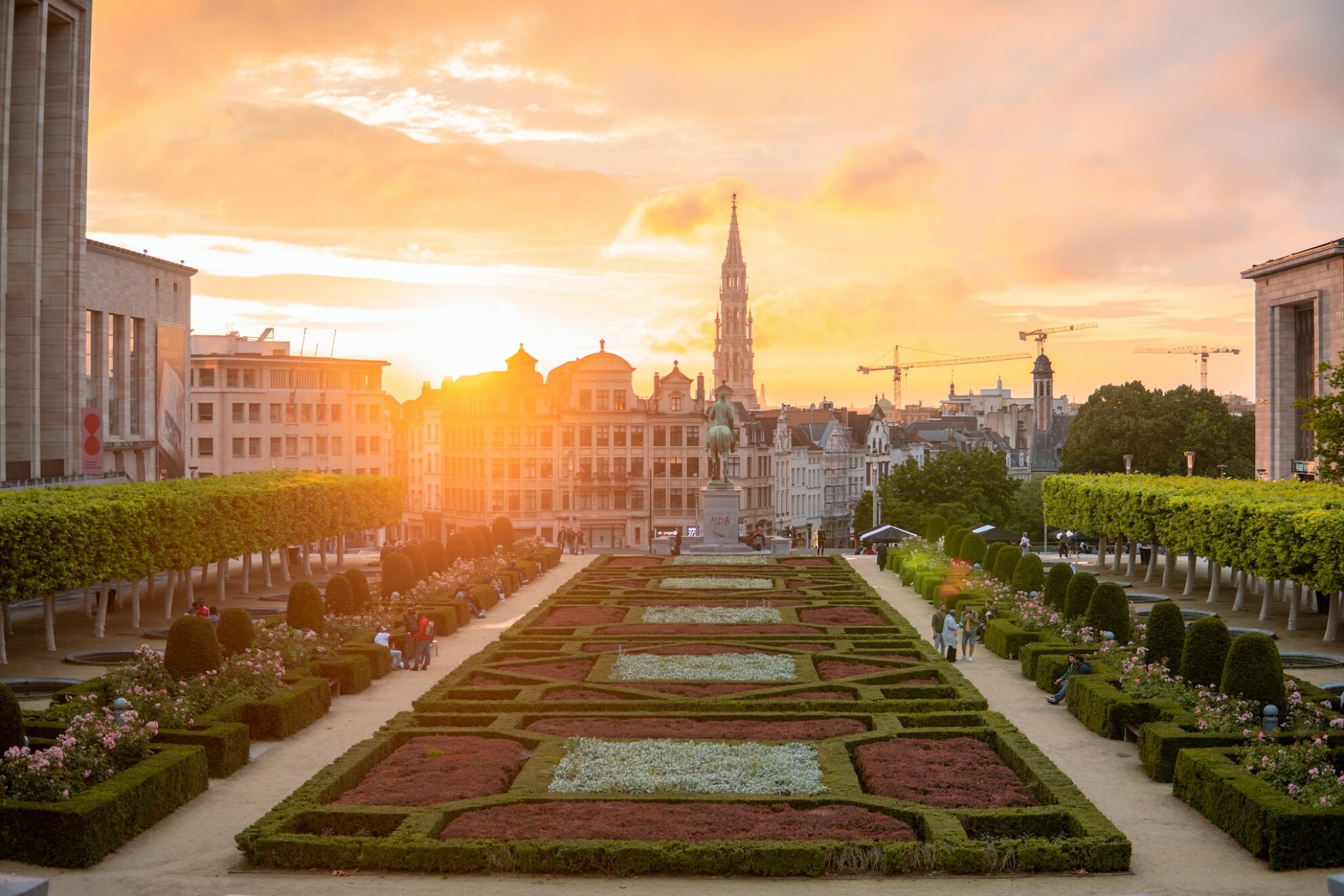 A guide to working in Brussels
Mention Brussels and the lyrics "Buying bread from a man in Brussels. He was six-foot-four and full of muscles," might pop into the head. And the good news is that, unlike the 1980s popular Men at Work song, people in Brussels will speak your language. And the food is better than a Vegemite sandwich.
The capital of both Belgium and Flanders is a melting pot of languages. High living standards and excellent public facilities have made Belgium a popular destination for expats. According to the OECD Better Life Index, Belgium offers high-quality employment, income, housing, and education.
Brussels has a thriving expat community and the city is home to 220,000. There is a large community from countries, including the UK, Canada, New Zealand, Australia, and Germany, to name a few. This enhances the experience of working in Belgium's capital. More than one in three residents has a foreign nationality, and more than one in five has an EU member state nationality. With 62% foreign-born residents, Brussels ranks as the 2nd-most cosmopolitan place in the world, after Dubai.
Location, location, location
The compactness of the city makes getting around easy. To put it into perspective, Greater London covers an area 10 times the size. The centre is accessible by public transport: train, tram, metro, bus, and waterbus.
The city is small enough to get around, everyone loves a business lunch meeting. Belgians aren't averse to a midday glass of wine, although this varies between industries.
As the administrative centre of the EU, Brussels is halfway between France and Germany. Brussels has an advantageous location within Europe – a hop away from cities including Berlin, Amsterdam, and London, by road, rail, or air. Paris is only 1 hour and 22 minutes away, which makes it an ideal weekend destination. Brussels is home to the largest airport in Belgium. This all makes it easy to visit family or spend that all-important annual leave.
Working in Brussels
Many centres of international power have their bases in Brussels, including the EU, World Health Organization, and NATO. Professionals come to the city to work for NGOs, consulting companies, translators, or the Big 4. Working in Brussels enables you to advance your career, develop skills, and make friends with people from all over the world. It has an international vibe thanks to its status as the capital of the EU.
Work-life balance in Brussels
Belgian law fixes working hours at 8 hours per day and 40 hours per week. Both limits must be observed. Belgium is a country good for work-life balance. People work to live. The average summer holiday entitlement is a minimum of four weeks. Some employees will have five or six weeks of leave per year.
Homeworking is on the increase. Organisations understand the business case for work-life balance, and many have flexible policies. Nearly six in 10 (57%) white-collar workers in Belgium have flexible hours, according to a SD Worx report.
The traditional 8.30 a.m. to 5.30 p.m. five-day week, with an hour for lunch, applies in most Belgian companies. Many workers stick to 'nine-to-five', or whatever the formula may be. Only middle-to-senior management confronted with a crisis is likely to work longer, sometimes with time in lieu.
Employees here have more legal protection and social benefits than in other countries. As the second country in the world to legalise gay marriage, Belgium is a front-runner in the application of legislation ensuring equal treatment in hiring, employment, and training for all persons regardless of race, origin, religion, belief, sexual orientation, disability, or age.
Languages in Brussels
Brussels has a multicultural and bilingual work environment. There are three official languages:
French
Dutch
German
English (Although not an official language, most business people speak English, making life easier for expats.)
In schools, the two languages taught are French and Dutch. The majority of Belgians are bilingual. In Brussels, the most common language is French. Dutch is gaining importance. Expats find that doing business in Brussels is laid-back. The French side of business can be more formal and the Dutch side more informal. Some expats decide to take business or basic French or Dutch classes if they decide to stay there for some time.
Salaries in Belgium
In 2023, the average salary in Brussels is € 3700 per month (net). This is more than the two other regions of Belgium, including Flanders (€3257) and Wallonia (€3102). For a work permit, a highly skilled manager will need to earn €44097 in Brussels and a highly skilled director €73570.
Average gross monthly salaries for finance are €4857, and for computer programming or consulting, €4485. A good salary in Belgium depends on your lifestyle and where you live. If you're a young professional moving to Brussels, a good annual gross salary would be between €47600 and €52299 (€33300 - €38k after tax.) The UK has a double taxation agreement with Belgium, so you do not pay tax on the same income in both countries.
Housing in Brussels
Brussels is one of the most liveable cities in Europe, with a good standard of living and a focus on quality of life. Saint-Gilles is a favourite Brussels neighbourhood among expats who like to live like locals. Areas with rising demand include the regenerating canalside former industrial area of Tour & Taxis. It might be possible to rent a three-bedroom flat in the European Quarter, a 15-minute walk from the Grand Place, for around €1450 a month. The equivalent property in London might cost £4k to £6k.
Unlike other European cities, where apartment living is the norm, many expat families who settle long-term in Brussels buy houses with gardens. Avenue Louise, near Ixelles, is a sought-after street with boutiques and embassies.
Education
Belgium is a family-friendly country. Brussels has a comprehensive educational infrastructure. Education is compulsory up to the age of 18 and is split into four stages: nursery, primary, secondary, and higher education. Many expats with young children comment that the crèche system is affordable. With a range of schooling styles, and regulations that vary between the Dutch, French, and German communities, understanding the different schools can be a challenge. While most Belgian children attend free schools, private education, including international schools, is popular, especially among expats.
Healthcare in Belgium
Many employers help successful candidates obtain work permits, which are usually renewed every year. Proof of required healthcare cover is required before registering as a resident and when you apply for a visa. To access the state healthcare system, you must also get health insurance by joining a health insurance fund ('mutuelle' or 'ziekenfonds') and pay social insurance contributions. Dependants are covered by your health insurance. Expats have access to quality healthcare, with public and private hospitals and clinics providing excellent medical care.
Free time in Brussels
Despite Brussels being a capital city, there are more than 15 parks for a capital city. Bois de La Cambre is the most famous park for sports in Brussels.
The architecture in Brussels is impressive. There are both French and Dutch influences. Some of the most striking landmark buildings are around the Grand Place (Grote Markt).
The Royal Museums of Fine Arts of Belgium is a must for art lovers. The renowned Musical Instruments Museum has over 8000 instruments. The regal Royal Palace opens in July and August. During the summer, the botanical garden turned urban park attracts locals with its paths, manicured lawns, and flowers.
The Brabantine Gothic-style town hall is a famous landmark in the central square. More modern is the Atomium - an international symbol of Brussels and Belgium.
It was not intended to survive Expo 58, for which it was built. Today, it attracts over 600,000 visitors and is the most popular tourist attraction.
For shopaholics, Boulevard de Waterloo is the place to go for an investment piece from Chanel or Cartier. The Royal Gallery of Saint Hubert houses retailers selling high-end jewellery and handbags. For those not on an ambassador's salary, the Dansaert district has indie boutiques and European high-street brands.
Eating out is a popular expat pastime. There is a robust culinary scene with delicious Belgian food. For vegetarians or vegans, the city has something to offer. The coffee shop culture is also huge in Brussels. Lucifer Lives is a vegan café that stretches beyond great coffee. Lunch specials include white sausages with homemade mashed potatoes. Belgium chocolate is a famous export, and there are quality chocolate shops on every corner. Chocolatier Pierre Marcolini has outlets across the city.
Working in Brussels is a rewarding experience. It provides a unique opportunity to experience a new culture and advance your career. All while living in a dynamic, cosmopolitan city that is home to many international organisations and multinational corporations. To discover more about working in Brussels, talk to Meraki Talent today.