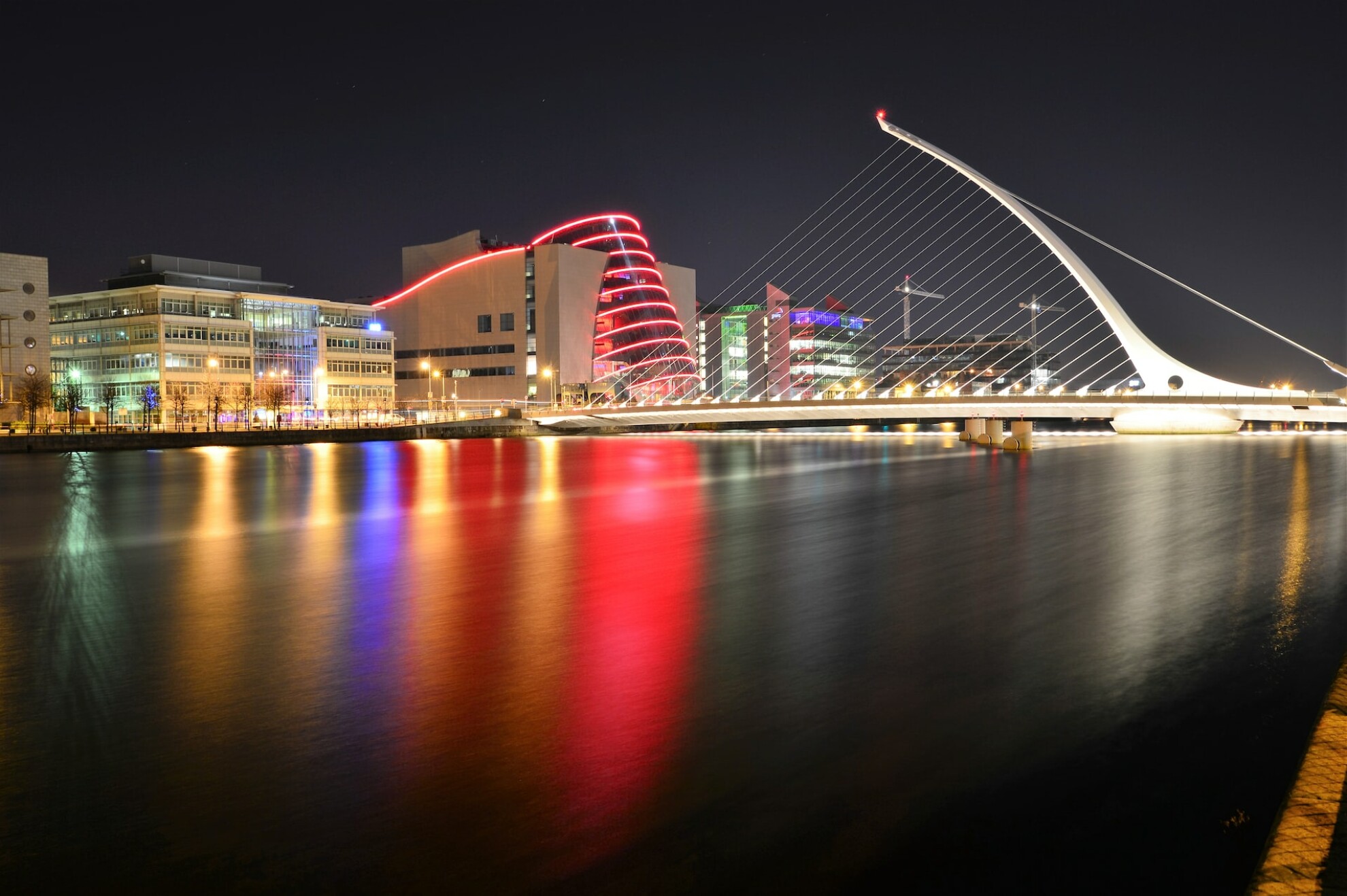 A guide to working in Dublin
With many large organisations relocating their European headquarters to the Irish capital and international accountancy firms offering roles in audit and assurance, Dublin is a great place to progress your career.
Ireland is a stable, competitive, and secure country. Over the last decade, the economy in Ireland has gone from strength to strength, and Dublin has grown into a major player in many global markets, including financial services and technology.
Since the EU referendum six years ago, Dublin has remained the most popular destination for professionals and European hubs and offices. If you're a finance professional, an accountant, or a tech specialist, there are plenty of opportunities.
Opportunities
Dublin is a popular choice among major organisations for their European headquarters, and that makes it a likely destination for skilled professionals to live and work. Moreover, UK and EU nationals do not need a visa or residency permit to live and work in Ireland.
Why are companies moving to Dublin?
Dublin attracts a lot of international talent, and that makes the recruitment market dynamic, which is attractive to employers. Another important factor driving companies to Dublin is Ireland's business-friendly tax regime. Corporation tax is 12.5%, placing it among the lowest corporate tax rates in Europe. This compares favourably with the UK, where the corporation tax rate is 19%. Companies based in Ireland also enjoy a 25% tax credit on research and development.
Financial Services
Rising interest rates and the opportunity to grow at a rapid pace are providing optimism for Ireland's banking system, which has been rehabilitated after the 2008 crisis that crashed the Irish economy.
The Irish capital was recently judged the most popular location for financial services firms to locate their EU offices. Figures from EY show that 44% (97 out of 222) of the UK's largest financial services companies have announced their intention to relocate UK operations and/or staff to Dublin since the Brexit referendum.
A tech hub - Dublin's Silicon Docks
Dublin is home to the European headquarters of some of the largest global technology companies. Software company Salesforce was one of Dublin's pioneers and opened its first offices there in 2001. Social media app TikTok is the latest to join, signing a long-term lease to rent 210,000 sq ft of office space in the city's south docklands. With a strong reputation as the digital capital of Europe, the city is home to 16 of the top 20 global tech companies.
As a tech hub, Ireland has a wealth of talent that helps attract companies including LinkedIn, Microsoft, Google, Meta, Dell, and Apple. Enterprise Ireland estimates that Ireland has 80,000 tech professionals, with Dublin's Silicon Docks at the centre of the Irish technology sector. The capital is the European place-to-be for start-ups and 1,200 start-ups sit alongside 250 global tech companies.
About the city
Dublin's origins date back to the 9th century when it was an initial Viking settlement. Nowadays, Dublin is a city where the old and the new exist side by side. Dublin has evolved into a global capital and is one of the world's most multicultural cities.
Dublin has a unique character and plenty of local pubs to grab the best pint of Guinness you've ever had. Yet, there is still a small neighbourhood feel in the city, which is attractive.
Ten benefits of living and working in Dublin
Visa requirements: European and UK nationals do not need a visa to live in Ireland and they may live and work without restriction. Professional non-EU workers may be provided with visa sponsorship by their hiring firms.

Work/Life Balance: Irish employees have a fair work-life balance. The Irish capital ranks third in work-life balance, according to an InterNations survey. This is ahead of Sweden, Germany, the USA, Australia, and the UK.

Career opportunities: an InterNations survey ranked Dublin as number one for local career prospects and job security.

Quality of life: a 2021 study by the United Nations ranked Ireland second in the world for quality of life.

Great education: For those relocating with their families, Ireland's education system is highly regarded worldwide.

Location: Dublin's location puts the UK and Europe within easy reach, making weekend trips home cheaper and easier.

Safe city: Dublin's safety is excellent and is improving year after year.

Public transport: is well developed and connects you to the whole city.

Annual salaries are competitive: the national average annual wage is around €39,000 (USD 43,000). And an average weekly wage of €870, according to 2022 figures from the Central Statistics Office.

Stunning scenery: there are lots of spectacular attractions to visit. You can go sailing, climbing, walking, cycling, or just take in the beautiful views.
Relocating to Dublin
Many employers provide services and support to help successful candidates with their relocation. You will pay tax on your income and you will require a PPN number. A foreign worker with a PPS number can access certain benefits.
Most of the firms we work with here at Meraki Talent offer relocation packages, including visa support if needed for non-EU workers and some financial support. Relocation assistance for those looking to move to Ireland is often looked at on a case-by-case basis.
Working in Dublin
Dublin workers can strike a good work/life balance. The hybrid working model has proven positive and is focused on the employee experience. Many companies have continued with hybrid working arrangements. When employees come into the office, it's often about getting together with other team members or attending events.
For commuting into Dublin, the DART (light-rail) and the LUAS (tram) are commonly used. The bus is the most common mode of public transport thanks to its large network of routes. And, depending on where you live, you might be able to walk or cycle to work too.
Dublin is an expensive city to live in, coming in joint 19th in the Economist Intelligence Unit's Worldwide Cost of Living, but the Irish capital is just below London when comparing the costs of goods and services in each city. Your salary will reflect this, though.
The average auditor salary in Ireland is €58,158 per year, averaging €4,847 per month. Entry-level positions start at €45k per year, while most experienced workers make up to €70k per year. Salary figures from job board talent.com show the average monthly salary for a tax manager is €5,833, a financial accountant is €4,917, and an accountant is €4,469. Irish employers offer life insurance and health insurance benefits for their employees.
Living in Dublin
Dublin has a reputation as a welcoming city. According to the InterNations Expat Insider 2021 report, Dublin ranks sixth for local friendliness and 13th for ease of settling.
It's a fun and friendly city with a culture that caters to all tastes, from quiet pubs to theatres, shops and restaurants. The Irish are known for their friendliness, and you'll have no problem making friends with locals and ex-pats in Dublin. More than 20% of the Dublin population are ex-pats!
People who first move to Dublin can be sidetracked by the tourist traps and often end up eating or drinking at the most expensive bars in Temple Bar. Dublin is a city that unveils itself, so talk to the locals and you will find the hidden gems.
Like many other countries, one of the main contributors to this is the cost of housing. The average property price in Dublin is €509,575 (£442,730). According to stats by Daft in 2022, the average monthly rent in the centre of Dublin is €2,042. Those starting out in their career often opt for a house share to meet people and keep down costs. Properties closer to Dublin City Centre will be more expensive, but will mean less commuting time and cost. According to Irish Rail estimates, an annual ticket for Dublin's tram, train, and bus network is €1,550.
It is easy to fly into Europe. Ireland has an outstanding transport network with a variety of airports providing convenient and easy travel. Thanks to the low-cost airline, Ryanair, getting home won't cost a fortune. And there are plenty flights from Dublin to international destinations too.
Want to know more? Speak to Meraki Talent about Dublin jobs in audit today.