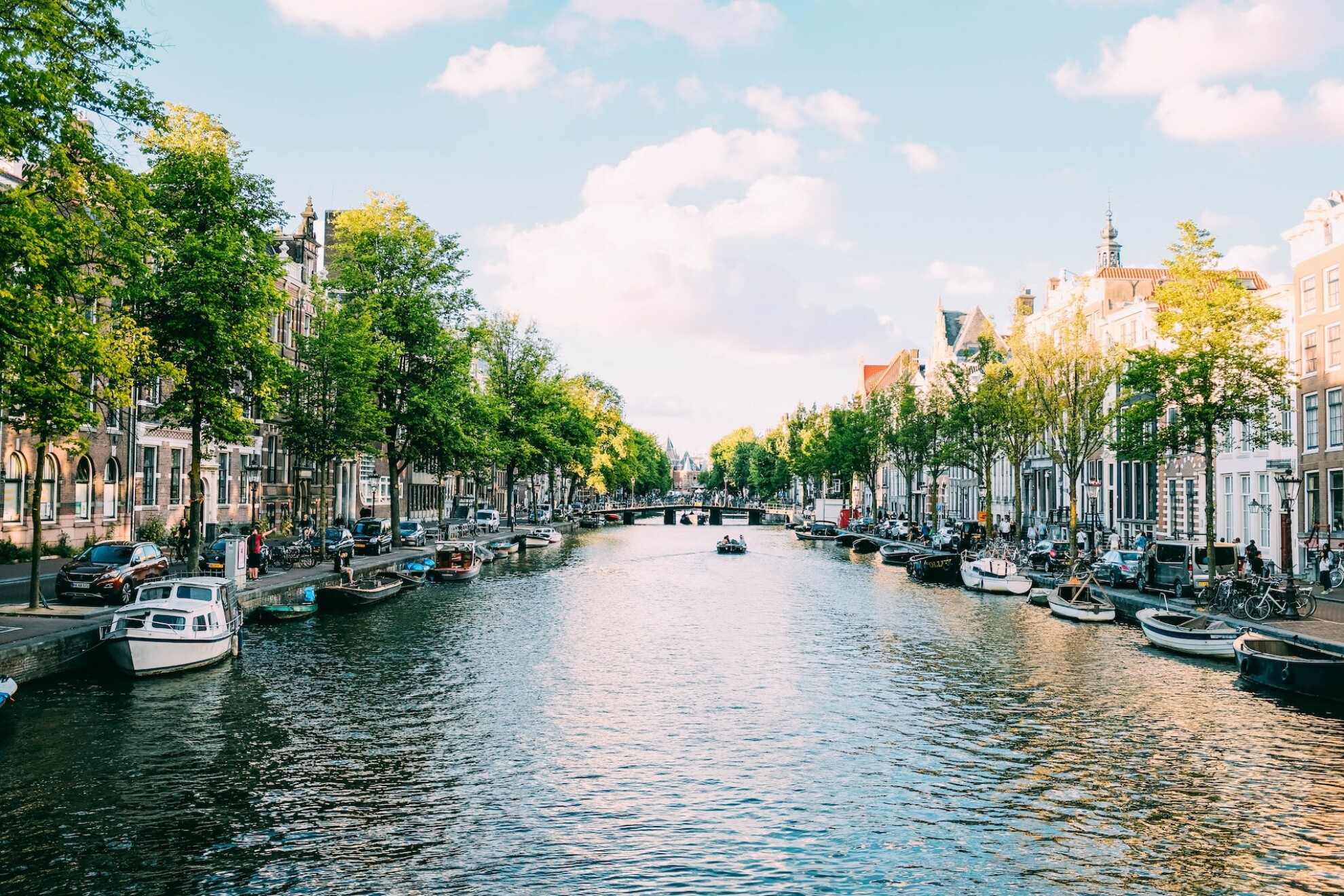 A guide to working in the Netherlands
The Netherlands has a stable economy that attracts foreign investment thanks to favourable tax conditions. The country also has a diverse, well-educated population, and almost 24% of the population is international.
With easy reach to mainland Europe and with Schiphol (Amsterdam's Airport) being the hub of international flights, the country is an attractive destination for those who want to advance their career in audit or transaction.
According to OECD better life index, only 0.4% of employees work long hours in the Netherlands, which is the lowest rate (the average is 11%). The Netherlands has a lot to offer. With a good work-life balance, no need to speak Dutch and good salaries.
Plenty of ex-pats are making the move to the Netherlands. There is a modern work environment, where equality is valued, and hard work is appreciated. With cosmopolitan and culture-rich cities, flat landscapes begging to be explored, and friendly people, this European land offers an excellent quality of life, and ex-pats who make the move rarely regret it.
Working in the Netherlands
Skills shortage
Professionals in the fields of interim management and tax are also in high demand. The vacancies are for professionals such as auditors, qualified accountants, transaction specialists, IT specialists, financial professionals, and those with a background in finance. Often, transaction teams are experiencing continuous growth. So there is a real need to recruit skilled and professional staff from outside of the country.
Where are most of the audit jobs based?
The vast majority of audit positions are in key cities such as Amsterdam, Rotterdam, The Hague and Utrecht. There may be opportunities in other cities such as Eindhoven, Maastricht, Zwolle and Breda.
Specific audit qualifications
The main audit qualifications in the Netherlands are the RA Registered Accountant qualification for financial auditors and most international professional accountancy qualifications are recognised alongside holding a university degree.
Working in transaction
Transaction Services in the Netherlands may include working with international clients and some of your work might be cross-border deals. Your work will be both buy side and sell side, The size of the deals is likely to vary from mid-cap to large-cap. Most of the reports are in English, and the majority of deals, (around 80%) are completed in English. However, some local clients prefer using Dutch for meetings and communication.
Salaries
Out of all EU nations, the Netherlands ranks strongly in terms of average salaries.
The pay and, therefore, the standard of living are high. Expats earning the average salary are able to enjoy a high quality of life in the Netherlands.
An Audit Manager within Financial Services for one of the Big4 firms could attract a manager base salary of around €57k and this is likely to include holiday pay equal to one month's salary. A role in transaction services at a Big4 firm could pay a senior around €50-55k and a manager around €60-70k, with the possibility of a bonus. An Audit Senior could see a starting salary of around €40k, complete with many additional benefits. Some firms offer higher than that, and depending on level, could be around 45k or even slightly higher.
Benefits
A non-contributory pension, social activities such as Friday afternoon drinks, trips, and/or sporting events are common perks of working for a large firm or one of the Big4. These firms often provide support for ex-pats, which may include:
relocation allowance (one-off cash payment, paid in the first month's salary)
sponsorship (if required)
practical relocation support
Hiring process
The recruitment process for these kinds of roles usually involves a combination of any of the following:
informal introductory call
online assessment
Case study
two or more interviews
partner interview
Dutch work culture
The Dutch office reflects the generally egalitarian nature of Dutch society, and businesses in the Netherlands have a flat organisational structure.
The Dutch are hardworking and disciplined. They tend to be formal and reserved within the workplace. Their communication style is direct, and you'll always know where you stand with your colleagues. Answers will be clear and straightforward, which can make working life easier.
People tend to work fewer hours than in other countries and value home time as much as work time. The typical working week for the Dutch is 36 to 40 hours, occasionally broken up into four days. The work environment is well organised and structured, which enables the majority of work to be done between the regular working hours of 9 am and 5 pm. Employees are not usually expected to work overtime unless they are in management.
In fact, the work-life balance in the Netherlands is among the best in the world! According to the 2019 OECD Better Life Index, the Netherlands is the best country in the world for managing its work-life balance. The Netherlands scores 9.5/10 and the country overtook its rival Denmark in 2018
Getting started
Due to the high demand for trained professionals in the Netherlands, there is a quick immigration process.
You will need a Citizen Service Number (burgerservicenummer or BSN) before you start work in the Netherlands. Everyone needs this personal tax and social security number, and you get it when you register at the city hall on your arrival.
You need your DigiD to do your administration online in the Netherlands. This includes doing your taxes, applying for benefits and allowances, checking your pension in the Netherlands and many other actions. You apply for this for free on the DigiD website
Tax
There are tax incentives for foreign workers to relocate to the Netherlands to undertake skilled positions like audit. Additional tax advantages (the 30% tax ruling) are available to some international employees. A Dutch income calculator can be found here.
Living in the Netherlands
Property
Keep in mind, though, that although the Netherlands is a small country, due to traffic, many workers are reluctant to travel too far from their home to the office. Fortunately, there is a good range of accommodation for those relocating to the Netherlands. Serviced apartments are often furnished, while houses are unfurnished.
There are two types of rental agreements in the Netherlands. Fixed-period tenancy agreements set a minimum fixed period for rent, usually six to 12 months. Indefinite rental contracts have no set termination date, allowing a more flexible, open-ended lease. To rent, you'll need to provide your BSN (burgerservicenummer) number. Expats may need to provide their employment contract.
Buying property in the Netherlands can seem attractive to ex-pats who want to relocate long-term. Agents have the best information and know the local areas, what's available and price ranges. While some banks might be willing to grant a loan to foreigners, some only offer mortgages to EU citizens or those who have been Dutch residents for at least three years.
No matter where you live, accommodation is likely to be a major expense. Dutch cities are expensive when compared to rural towns and suburbs. Transport is cheap by European standards, and it may be cheaper to spend on commuting than to live close to your place of work, if in the city.
Our advice to anyone moving abroad for work, when they aren't familiar with the country or city is don't move into a long-term contract straight away. A shorter-term lease might cost slightly more, but it enables you to get to know the city or town first, especially the parts you'd like to live in before you commit to a residential contract.
Cost of Living
The country has a high cost of living, but it is still lower than many other European countries. The Hague and Rotterdam are cheaper to live in than Amsterdam.
Healthcare
There are many reasons the Dutch are so fit and healthy: exercise, diet, and excellent healthcare. Basisverekering is a compulsory health insurance scheme that costs each person around €95-€120 per month, and it's efficient. In 2016, the Euro Health Consumer Index (which ranks healthcare services) gave the Netherlands first place.
The Dutch system is one of the best in the world and is one that blurs the distinction between private and public care. Most healthcare facilities are non-profit and regulated by the government. The government funds long-term health treatment through tax, while short-term treatment is covered by mandatory private insurance.
All residents and taxpayers in the Netherlands are required to have medical insurance from a private health insurance company.
The language
English is the main business language. The Netherlands has the highest proficiency in English as a second language than any other country, according to the global English Proficiency Index. Those able to speak French, German or Dutch are always sought after for employment.
US and UK TV programmes are usually not dubbed, so you'll be able to enjoy watching TV and films in English.
Dutch culture
The Dutch are among the world's most liberal people. If you are from a more conservative country, you may experience some culture shock in the Netherlands. Dutch people are friendly but can come across as direct at first.
If you've worked in the UK or a similar country where politeness is commonplace, you might find the Dutch blunt – and they're proud of it. If the Dutch have something on their mind, they say it. You never need to worry about what people secretly think about you because they will tell you.
In the Netherlands, the community is a big thing. Findings reveal that 90% of Dutch people say that they know someone who they could count on if they were in crisis, which is higher than the average.
Is it Holland or The Netherlands?
Calling the Netherlands 'Holland' is like calling the United Kingdom 'Essex'. Holland is a region that takes up about one-third of the Netherlands, so if you refer to the country as 'Holland' then you're ignoring the other two-thirds of the country. Yes, we know it is confusing.
Ex-pat Community
An ex-pat newspaper called The Holland Times is available via subscription or free at several locations around the country. The ex-pat community in the Netherlands is very active online, with plenty of forums to access for tips, information and making friends.
Amsterdam is a great place to be an ex-pat. it's the number two work destination in the world, according to a study published by the Boston Consulting Group (BCG).
Our advice for anyone relocating internationally for work is to spend the first year meeting as many people as you can. Whether through work or social activities like language classes, sports, community service, or ex-pat meetups. Life abroad is a lot easier and more manageable when you've got a network around you.
All religions are welcome and respected in the Netherlands, so finding a community with shared beliefs is possible.
Getting around
The Netherlands is a small country, so easy to travel from one side to the other. Transport is advanced. The Dutch rail network is one of the busiest in the EU, with trains running between major cities and other European countries. A train ticket costs the same whether you buy it two months away or 20 minutes away, which means that you can travel where and when you want and not get caught out with extortionate prices.
Amsterdam and Rotterdam have well-developed metro systems and trams. The Hague and Utrecht both have efficient tram networks. Dutch cities, including Amsterdam and Rotterdam, offer ferry services.
Driving is easy thanks to the country's good roads and signage, but traffic can be a problem.
Get on your bike!
Bicycles outnumber people, with approximately 22.5 million bicycles vs. 18 million people.
Cycling is at the very heart of transport in the Netherlands and cyclists are well catered for with dedicated cycle paths, which are regulated with their own rules and systems, including traffic signals and lanes. Cycle lanes make it safe and easy to cycle and there is a 35,000 km network of bike paths across the country.
Healthy lifestyle
You'll soon discover there is far more to the country than windmills and clogs! Oxfam's 'Good Enough to Eat' Index in 2014 ranked the world's countries based on their diet (nutrition, health, affordability etc) and the Netherlands came first. In fact, 19 of the top 20 countries were in Europe, but nobody came close to the Dutch.
Family life
If you are bringing children with you, childhood satisfaction is amazing (it's over 93% satisfaction for 11-15-year-olds). The standard of schools and education in the Netherlands is high. Although they may have a more laid-back feel than some ex-pats may be used to. Most schools are government-run, with a few independent international schools.
All children under 16, including ex-pats, can attend them free of charge, although lessons are in Dutch. Some public schools offer programmes to help non-Dutch-speaking students learn the language.
Some international and local private schools offer the International Baccalaureate programme, which could be beneficial if you move for work a lot. Fees at international schools can be higher than in other countries.
Working in the Netherlands sounds great… where do I apply?
Just click to see our latest audit jobs or get in touch with Meraki Talent today.