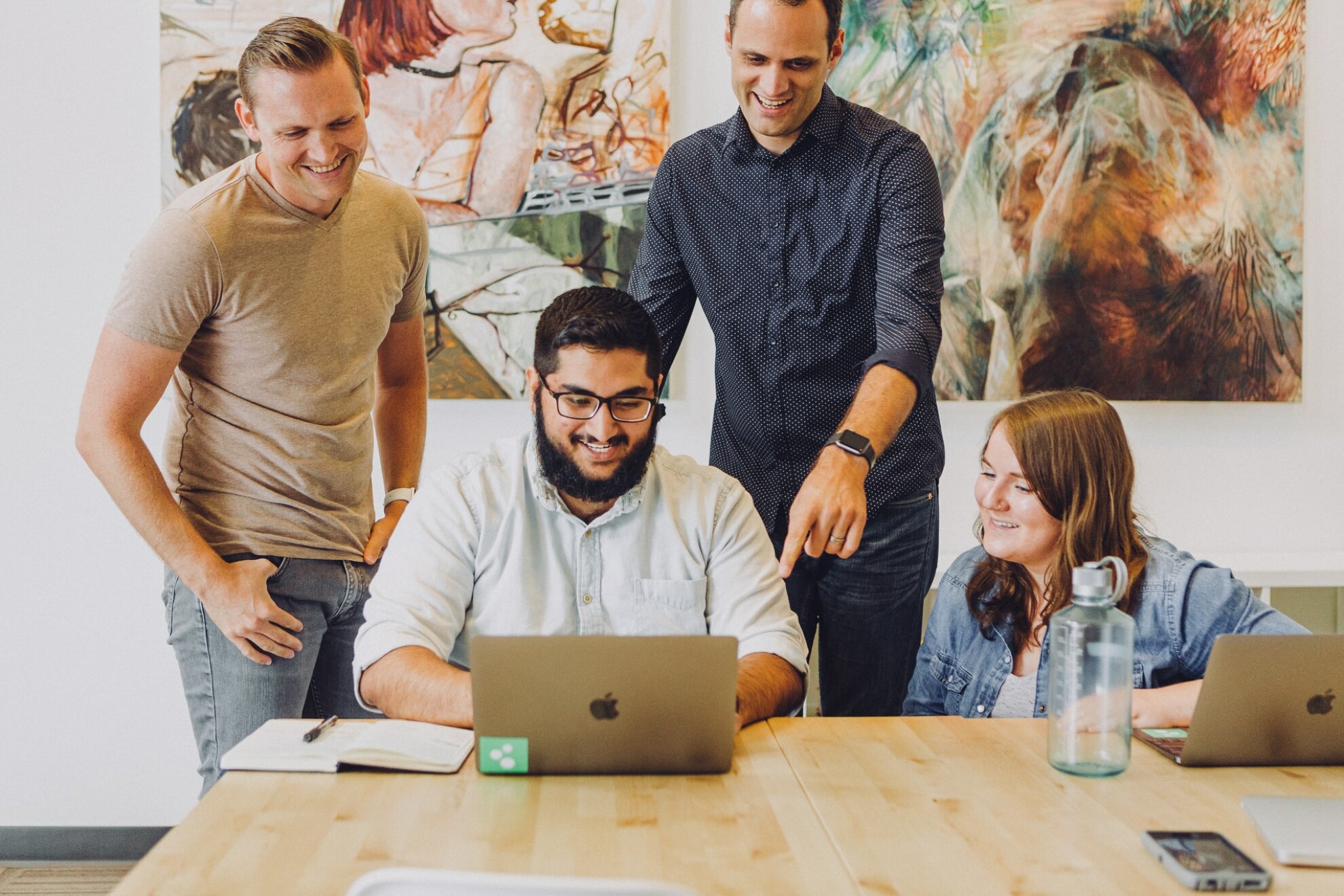 Seven benefits of working in the office
According to the Office of National Statistics (ONS), employees working from home fell from 22% in early February 2022 to 14% in May 2022. The proportion of hybrid workers has risen from 13% in the same period.
If you're dreading going back to the office, either full time or on a hybrid basis, it might help to have a reminder of how in-person work can benefit you and your career development.
It is safe to say that there are advantages to working in an office that cannot compare to remote working. Meraki Talent conducted a recent LinkedIn poll (June 2022) that asked workers who were back in the office, or working hybrid, what they valued the most from their time in the office.
51% said collaboration.
21% said company culture.
17% reported better productivity.
11% said good workspace.
1: Collaboration
It's harder for internal business knowledge to make its way around in a remote environment. Offices play a vital role in collaboration, creating an environment for innovation, productivity, and wellbeing. Ideas can be shared and developed through informal conversations between employees. This creates an energetic working environment that can't be replicated through Zoom calls, and is essential for the success of any team.
Many professional roles need high levels of collaboration. Having a physical presence in the office encourages quick and spontaneous idea sharing. Physical workplaces enable moments of serendipity that can move projects along and can be vital in projects related to areas such as marketing.
2: Company culture
With 21% of workers reporting company culture as being the main advantage to spending time in the office, it isn't surprising that if you are a new starter or recent graduate, working remotely creates a challenge in this area. We learn how to navigate a workplace's culture by watching colleagues and how they interact. Starting a new job remotely is a challenge. Many businesses rely on new hires gleaning what they need to know from their interactions with colleagues, and even managers might not be aware of what needs to be taught.
The value of 'water cooler' conversations in offices is well documented. If you're an existing employee, there are also benefits to spending time with your colleagues.
3: Productivity
It's not only equipment that the office guarantees, it's the atmosphere too. For many, office working offers an escape from distractions. WFH often means having to contend with spontaneous interruptions whether those are pets, children, or deliveries. This can all impact productivity.
4: The quality of your workplace
11% of workers report having a better workspace when working in the office. Not all homes are suitable for jobs and more junior workers may be living with their parents, in shared houses, or in small apartments.
In an office, you are guaranteed certain standards by law: suitable equipment for your job. Think chairs that support your lower back and screens that don't strain your eyes! Legislation that demands workplaces maintain appropriate working conditions.
5: Career development
When you're working in the office, it's much easier for your manager to see your potential and productivity. In-office interaction time can be beneficial when it comes time for managers to make promotions and give recognition.
Being part of a company project with a team of people boosts your creativity, as well as developing your collaborative and social skills. In an office we can interact and work with other colleagues.
6: Healthy work-life balance
Even if you love your job, it's not healthy to feel like you're working all the time. Everyone has a different attitude to balancing work and home. Working in the office can help maintain a healthy work-life balance. Returning to the office - then unwinding on the commute - gives employees the physical distance needed to mentally log off for those who struggle to compartmentalise work.
While balancing home and work life can keep us on our toes at the best of times, the office provides a clear place of work, which employees can leave at the end of each day. Being able to mentally switch off from work helps to reduce stress.
7. It's easier to build relationships
According to the 2020 State of Remote Work Report by Buffer and AngelList, 20% of
the global workforce finds loneliness is their biggest struggle. When WFH, people's networks can shrink to the people they only need to work with. Being in the office enables you to connect with colleagues you may not interact with daily. Having colleagues who are friends at work also increases job satisfaction. Good collaborative relationships decrease work-place frustration by making it easier for employees to get help when they need it and learn new tasks. Offices connect people. Whether it's a work-related topic or personal life shared, this helps to decrease feelings of isolation and loneliness that can come from WFH.
Finally, it's much easier to read people's emotions face to face than over a screen resulting in more personal conversations. It enables managers to get an insight into people's wellbeing and offer support where needed.